Date: April 23, 2010
Location Trio of Falls Survey
Where: Cottage Grove Ranger District, Umpqua National Forest
In continuing my volunteer trail survey work for the Cottage Grove Ranger District, Jeanette, Buster and I, hiked three short trails to three spectacular falls. They are all in the Laying Creek watershed, so it made sense to do them all on the same trip.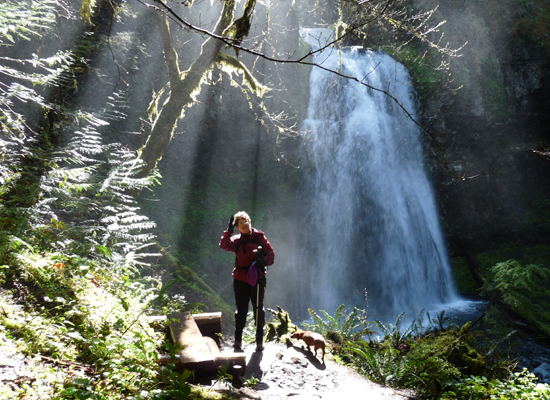 Spirit Falls
The first stop was Spirit Falls Trail, a short trail of under a half a mile. No downed trees, but a pretty muddy trail. The spray from the falls and the morning light made for an interesting photo.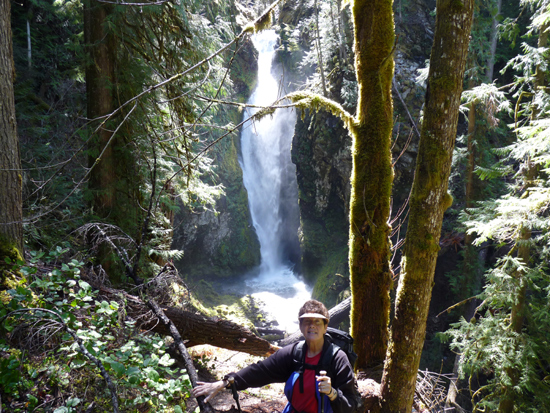 Pinard Falls
The second stop was Pinard Falls Trail, a trail listed at six tenths of a mile. Here we found the biggest mess of the day, three down trees across a switchback, which is in effect six trees to cut out. This was my first trip to this falls, and I think it's the most spectacular of the three.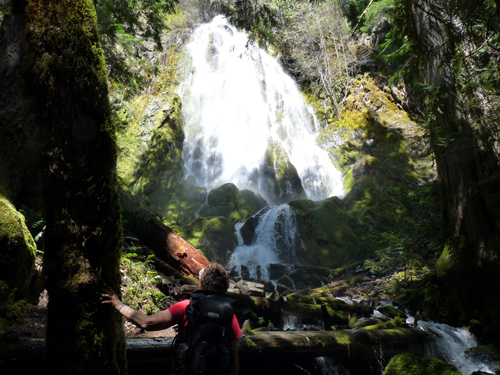 Moon Falls
The third stop was Moon Falls Trail. This is by far the flattest trail of the three with only a hundred feet elevation change, and a length of a half a mile. No down trees here, but some muddy sections that need gravel.

I have now surveyed seven trails, leaving me ten more to survey.