Date: June 19-20, 2004
Location Turpentine Lake Fishing
Where: Mt Jefferson Wilderness
Jeanette and I ended up with an impromptu little get-away for some backpacking and high lake fishing. My plan was to pack into Temple Lake and camp and fish there the first day, and on the second day explore Cleo and Turpentine Lakes on the way back.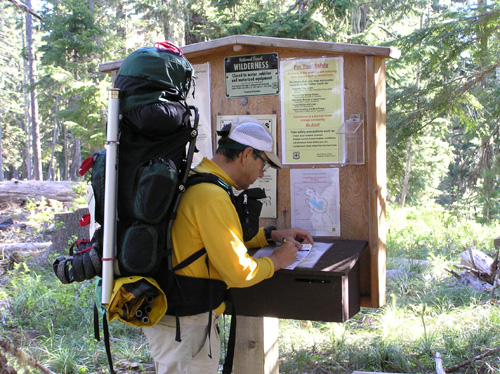 Jim at the trailhead
Luckily I had preloaded in the waypoints for the lakes into my GPS before leaving. I say that because we ended up walking right past the junction of the Temple Lake Trail to Temple Lake. When the GPS began to indicate that we had passed the lake, we retraced our steps to discover that the junction we had missed looked like some clever individuals had tried to camouflage the trail with logs. We hiked on down to the lake only to discover that another couple was already camped there and after they said they had not seen any fish jumping, and the lake seemed dead, it seemed our Eden was destroyed and we decided to move on and try to find Cleo Lake. The GPS did its job again for us and we where able to bushwhack our way to this small lake that has no trail. I had no plans to fish it as it has not been stocked in years, but we did stop and enjoy a nice lunch break there before continuing on cross-country to Turpentine Lake.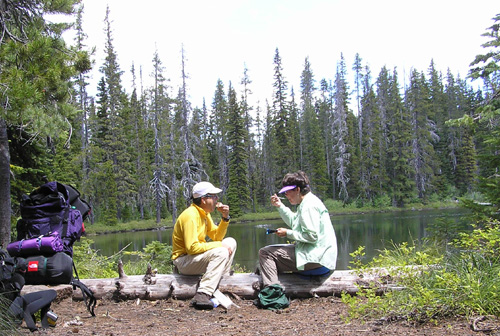 lunch at Cleo Lake
Again the GPS got us through thick brush and trees to our next lake, Turpentine Lake, where I was very heartened to see fish surfacing. This was the first in the last six lakes I have visited that I actually saw a fish rise to the surface. We elected to fish before setting up camp, as there was a tremendous mayfly hatch in progress. Jeanette rowed while I fished and after much frustration that comes from too much pressure when the hatch is on, I managed to get the attention of a nice fat 10-inch rainbow. After the hatch died, we rowed back to set up our camp and fight mosquitoes.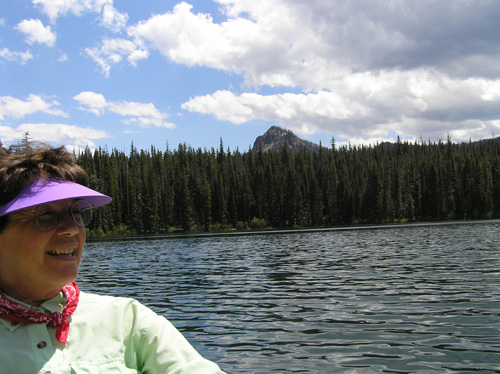 Jeanette on Turpentine Lake
Dinner was fresh trout with rice pilaf. In the morning we took a compass heading and cut cross-country to the Turpentine Trail and out to the car, which we had left exactly 24 hours earlier. As we drove home we discussed how we love even short backpacks in that it allows us to disconnect, from all the luxury and responsibilities of modern life. And in the brief time it gives us a new perspective and appreciation of all the comforts and conveniences of home.
trout for dinner