Date: December 7, 2010
Location Bishop Peak Trail Hike
Where: San Luis Obispo, California
Today the weather forecast was for a full day of sunshine, so it sounded like a good idea to do this hike on Bishop Peak. Bishop Peak, at 1559 feet, is the tallest of the Nine Sisters, a volcanic range that extends from Morro Bay to San Luis Obispo. It was named by the Mission padres, who thought that the three spires on top resembled a bishop's miter cap.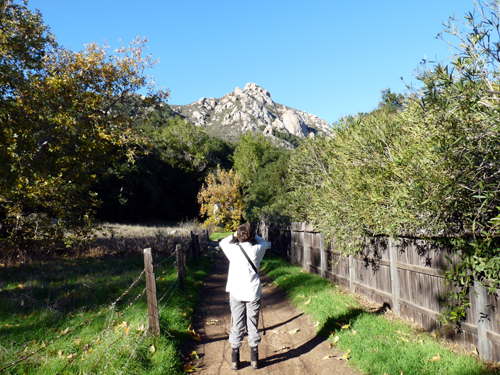 Jeanette checks out the top with binoculars
The Bishop Peak Trail begins in a residential area at the end of Highland Drive. The trail winds up through some gorgeous old oaks, and then circles around the south side of the peak, giving great views of the greater San Luis Obispo area.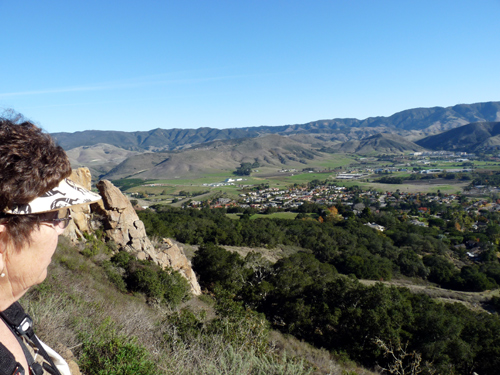 Jeanettes looks back at San Luis Obispo
The last section of the trail involves some serious switchbacks up to the saddle between two of the three summit spires. We were two of the oldest people on the trail, by far the greatest number of hikers were under 25, I suppose the result of Cal Poly being here, but we were quite pleased to see the younger generation enjoying this great trail.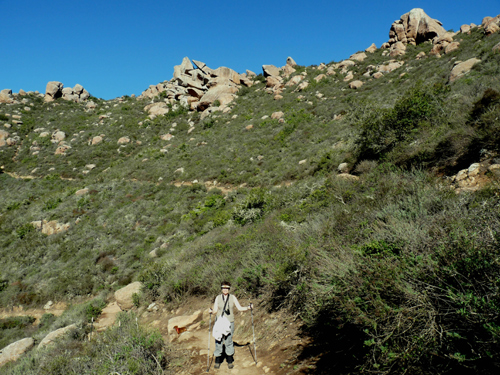 Jeanette with the three spires in the background