Date: August 16, 2007
Location Blue Canyon Basin Backpack - Day 2
Where: Sky Lakes Wilderness
Buster ever on guard duty had a hard time quieting down for the night with the cries of the Night Hawks and their accompanying buzzing dive bomb. His annoying growls and barking were easily forgiven the next morning as we all peacefully slept in until the warm sunshine drove us out of the tent. Hot coffee and oatmeal gave us a great start on the day.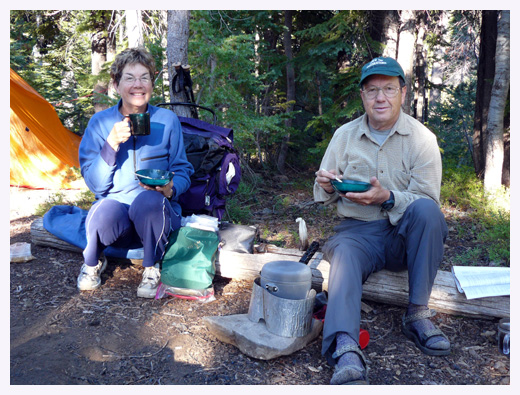 breakfast of coffee and oatmeal
After leaving Horseshoe Lake, we took a side path down to check out Pear Lake. Back on the main trail towards Island Lake we met Robert Powell and he told us of the good camping sites at the southern end of Island Lake at the Judge Waldo Tree. Arriving at Island Lake, it didn't take long to find the probable tree and we set up camp right at its base. I felt privileged to be camped at what I consider a sacred site. Judge John Waldo, who has been referred to as 'Oregon's John Muir', spent 30 summers camping in the high Cascades. I have been to several of his other known campsites, but this was my first time here.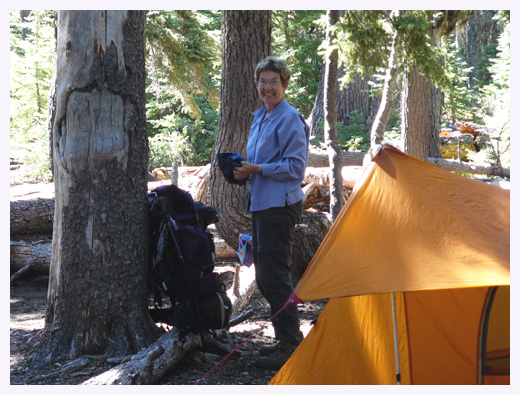 campsite at assumed Waldo Tree
A short time later in the day we discovered that the real 'Judge Waldo Tree' was a few hundred yards away, identified by a plaque and a fence!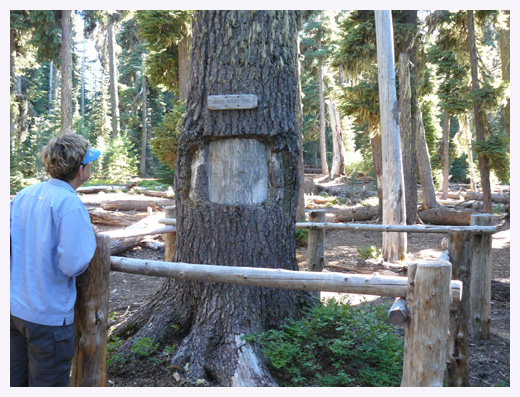 the real Waldo Tree
I spent the afternoon circling Island Lake fishing and making a side trip to Dee Lake. In the evening at dusk, at a location that I shall not divulge I caught and landed 3 big brookies, and broke off two more. I think they mistook a fast-stripped damsel fly imitation for a fleeing minnow. A perfect way to end a day.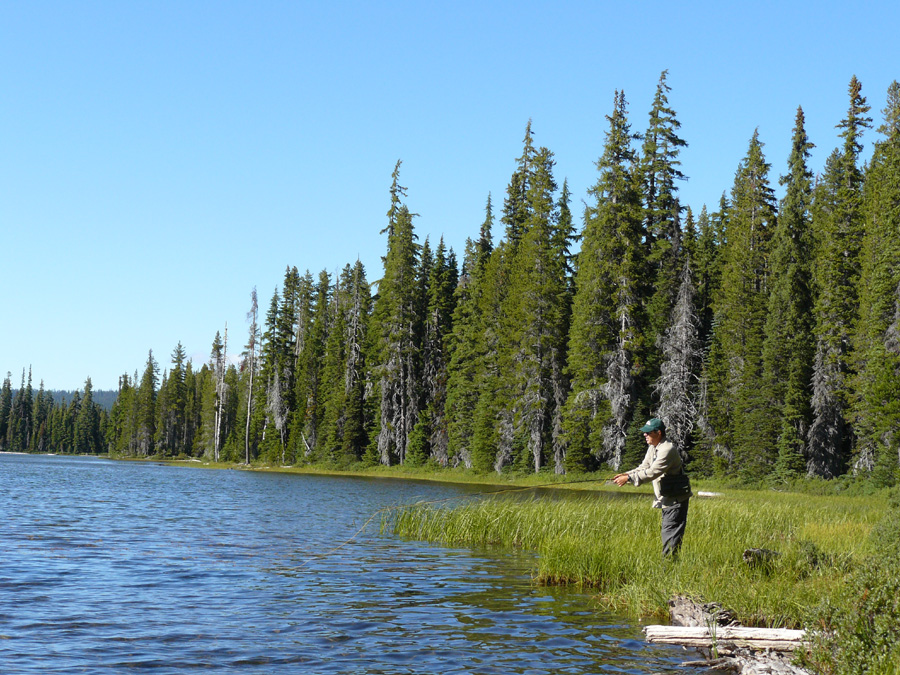 Jim fishing