Date: August 15, 2007
Location Blue Canyon Basin Backpack - Day 1
Where: Sky Lakes Wilderness
With a few open days in our calendar, Jeanette and I decided to see if we could get in a backpacking trip. Having missed doing any overnight backpack trips last year, we were both fighting nagging questions of whether or not we were getting too old and soft to hike with a loaded pack, sleep on the ground, etc. We selected an all time favorite, Jeff Park for our destination, but at the last minute a poor weather forecast caused me to look elsewhere. Using the National Weather Service Forecast website I was able to find a better weather forecast to the south in the Sky Lakes Wilderness. This was a good fit, as the Sky Lakes were on my 'must do' list for this year. I selected the Blue Canyon Basin Trail based on Bill Sullivan's book '100 Hikes in Southern Oregon'. The cluster of lakes along this trail are just a short distance in from the trailhead and should be an easy re-introduction to backpacking for us.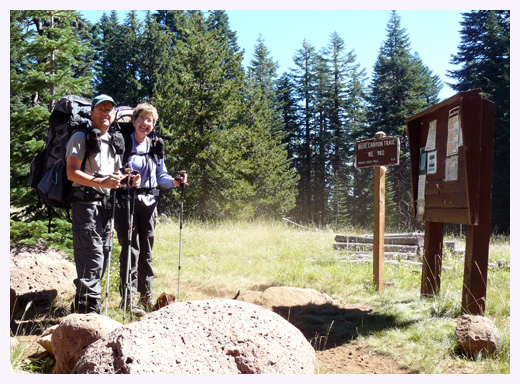 From the Blue Canyon Trailhead the trail descends just over a mile to the first lake, not much larger than a pond, Round Lake. A second mile plus brought us to lovely Blue Lake where we paused for lunch. I was thinking that this could be out first campsite, but restoration efforts by the Forest Service have left camping opportunities at a minimum. There was already one camp setup and a group of day hikers picnicking and swimming, so it was an easy decision to hike on to better opportunities at Horseshoe Lake.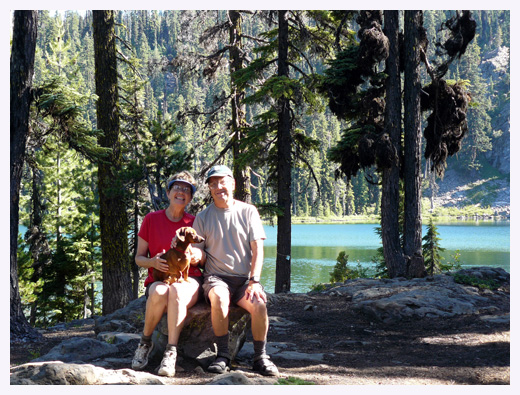 At Horseshoe Lake we were able to select a campsite back from the required '100 feet from shoreline' that still had a view of the lake, and flat enough to set up our tent. While I spent the remainder of the afternoon scouting out the fishing and nearby Pear Lake, Jeanette and Buster got caught up on relaxing.