Date: March 7, 2007
Location Wasson Lake Fishing
Where: Oregon Coast Range
Because I now live in the wine county of the Umpqua Valley, it seemed natural to get involved in the spring vineyard pruning. So for the last several weeks my wife and I have been busy pruning at ANINDOR Vineyards. However my sense of responsibility to viticulture has led to the neglect of my hiking and fishing responsibilities. This changed abruptly on Wednesday, when my fishing buddy, Rick, and I made an impromptu decision to try and find Wasson Lake. In about 10 minutes we were piled into his new Jeep and headed out of town.

The very best map and driving directions I found were in William Sullivan's book, 'Exploring Oregon's Wild Areas'. In the 12 years since the book was published, the route via Fern Top Road has fallen into neglect, with falling rock, trees, and landslides making for a perilous journey. Rick and I were greatly relieved when we found the trailhead.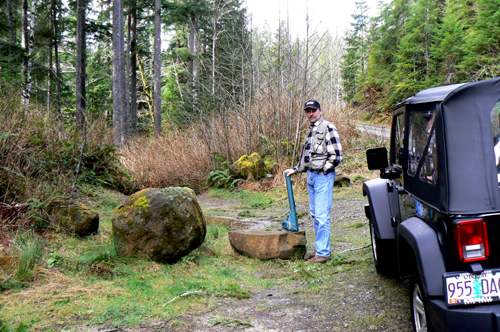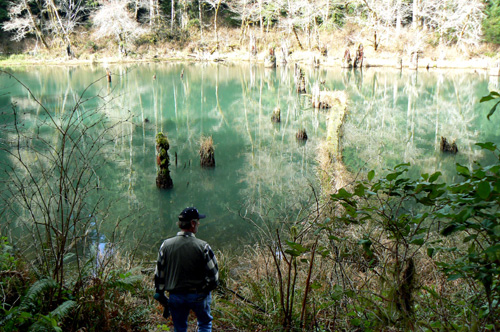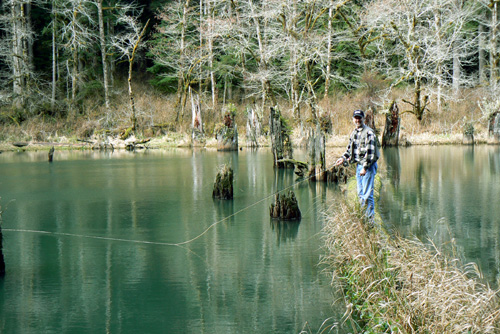 Heaven is to be able to wet your fly, in a remote lake, on a sunny day in March. However if you are planning to fish here be sure and bring a large trash bag, as there is no 'catch limit' on the abundant empty beer cans.

We found our way home via Vincent Creek Road, which although a longer route is definitely a safer route.