Date: September 17, 2006
Location Twin Lakes Fishing
Where: Twin Lakes, Umpqua National Forest
We had originally planned a backpack for Fri-Sun to the Mountain Lakes Wilderness, but rain and snow on Friday caused us to cancel and stay home. On Sunday the weather looked a lot better, so with about 5 minutes of planning, we took off to explore and fish Twin Lakes for the day.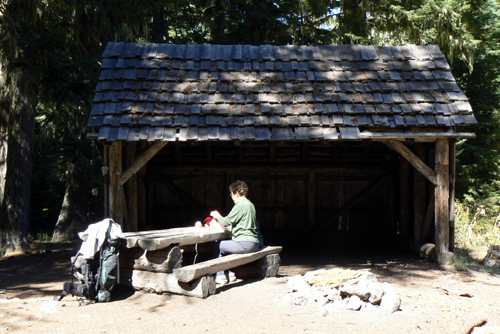 Jeanette having lunch at big Twin Shelter
Because we got a late start, it was noon by the time we arrived at the lakes, so stopping at the shelter our first item was lunch.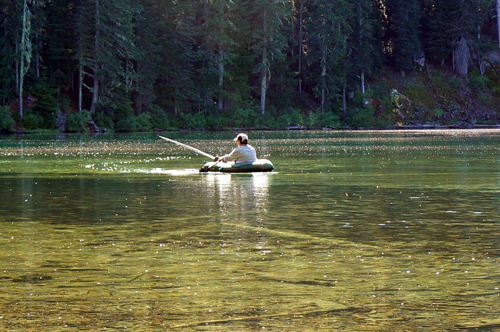 Jim fishing at big Twin
We hiked around the larger Twin Lake and the smaller Twin Lake checking out the campsites and shelters and taking photos. At the deep end of the bigger lake we stopped, Jeanette pumped up the raft while I strung up the fly rod, and then I got in some fishing. Although small in size the brookies were plentiful, and after adapting to a soft take, I was able to connect to a number of these little rascals.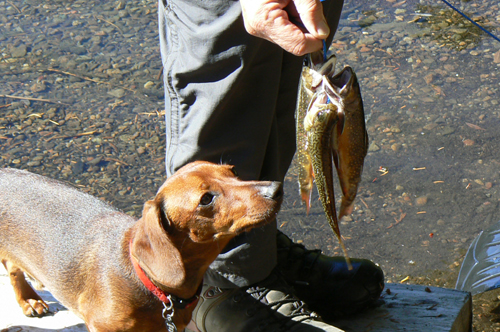 Buster checks out brookies
We found the Twin Lakes Trail to be one of the nicest trails we have hiked. Huge old growth trees towered overhead, while the ground was completely covered with the likes of Vanilla Leave and flowers that had seen their summer best, and through it all a smooth dirt paths wound as if a master gardener had plotted it.