Date: October 16, 2005
Location Tumble Ridge Trail Hike
Where: Willamette National Forest
After too many days at home due to weather and what not, I picked the Tumble Ridge Trail to get a good work out and get a possible GPS Track for BACKPACKER Magazine. John Stolting and Ron Noble joined me in this little escape. The first few miles of the trail switched back up through thick timber, which proved impossible to get a consistent GPS signal. I did however get good photos of the Blue-green Anise Mushroom.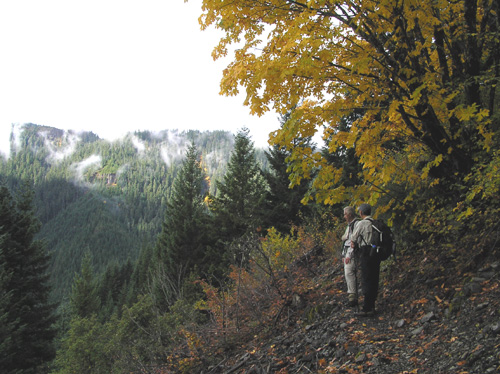 John & Ron looking down into the Tumble Creek watershed
We experienced a largely overcast day, but the yellow and oranges of the maples gave color to the day.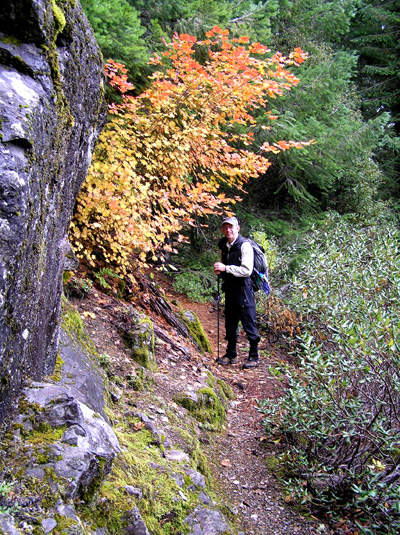 Ron with colorful vine maple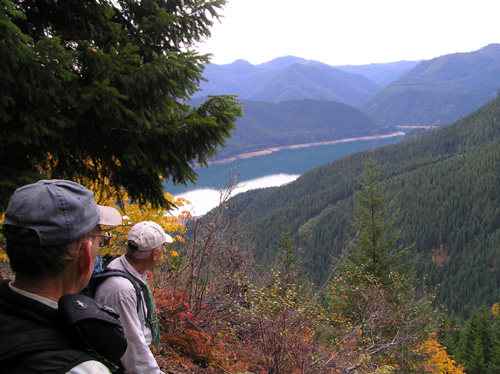 Ron & John looking down at Detroit Lake
We stopped for lunch at spot I have dubbed "Coyote Point", which is open and normally has a great view of Detroit Lake to the west and the Cascades to the east. On this day we had to be content with only viewing Detroit Lake.