Date: July 5, 1983
Location Eight Lakes Basin Backpack - Day 4
Where: Bowerman Lake to Camp Pioneer
Morning finds us completely socked in at 6:30. It's a fine mist that I wonder if might turn to rain in light of the thunder last night. We are at a turning point; to continue on to Duffy Lake on our planned route would mean two days more to be out, to change our route and go out via Blue Lake would be one day. Mosquitoes have taken away the joy of the trip-----OK, we go out today.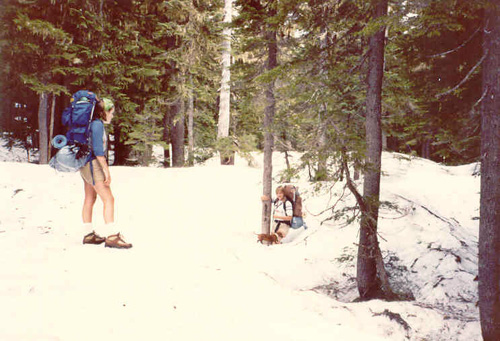 looking for trail blazes
By 8:45 we are on the trail. The trail is completely covered in most places making it hard to find, most of the tracks of yesterdays people have melted and we have to rely on blazes on the trees.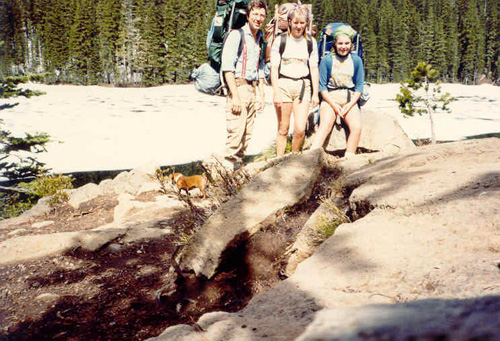 Blue Lake
We are at Blue Lake at 10:00 and the sun comes out. The lake is frozen over, it's absolutely beautiful. The trail is still difficult to find. Mosquitoes are still a pest---we use the last of my bug spray. Stop for lunch at the junction of the Pine Ridge Trail, and then stop again at Turpentine Creek, no mosquitoes just sun! On the last leg to the car we move as fast as we can to avoid the mosquitoes which are terrible. Out by 3:30.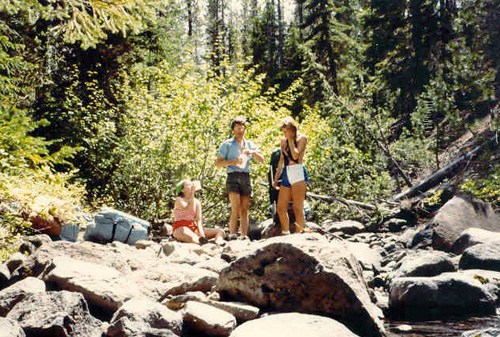 Turpentine Creek