Date: July 3, 1983
Location Eight Lakes Basin Backpack - Day 2
Where: Temple Lake to Marion Lake
Morning dawns with no rain. Gnawing of chipper gets me up at 6:00---nothing. Each time noise occurs send out Moxie. Sun comes out a little and we get up at 8:00 to find chippers have eaten half of Lisa's gorp, right through the pack. Half of my gorp was evidently eaten yesterday while on Marion Mountain due to zipper left open. Also into Moxie's food in tent due to not closed tight. On the trail by 10:30 after pancakes (which chippers had gotten into). Half-hour on the trail and we are shedding due to sun. By 11:30 we are in shorts and short sleeves. We stop many time and cut logs across the trail with the little bucksaw.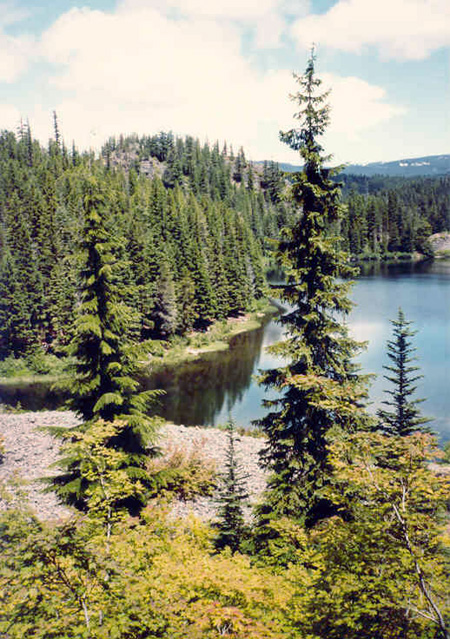 Marion Lake
At 1:30 we stop on a rock slope of Marion Lake for lunch in the sun. After short rest I fish while girls sun bathe. At 3:00 head for campsite on east side of the lake.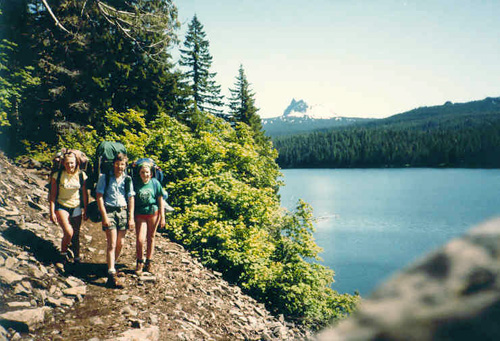 Tracy, Jim, and Lisa with Three Fingered Jack in background
Arrive at old Camp Marion site about 4:00 and set up camp. Girls head for the lake to swim while I start the stew to soak.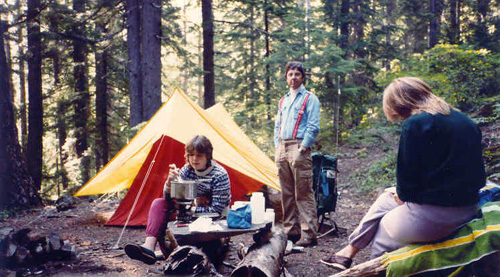 Lisa, Jim & Tracy at Camp Marion
After dinner of stew and banana pudding, both of which we could not finish, I head to the lake to fish. A tan damsel fly is the only thing that works, catch and release two 7' brookies, plus have to break two off that get wound around under water limbs. A couple camped below us are hiking from Mexico to Canada. They say lots of snow in the Eight Lakes Basin.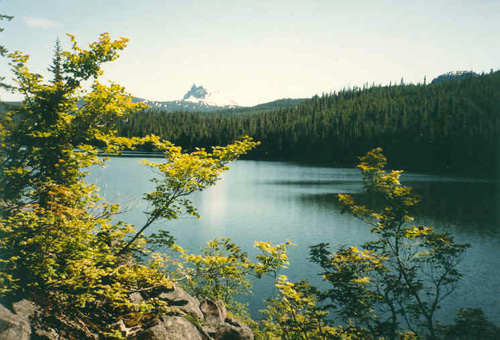 Marion Lake