Date: July 2, 1983
Location Eight Lakes Basin Backpack - Day 1
Where: Camp Pioneer to Temple Lake
I left Salem at 7:45 with Lisa, her friend Tracy Murphy, and our dog Moxie for a backpacking loop thru the Eight Lakes Basin. We stopped for breakfast at Mike's Kitchen in Mill City, arrived at the trailhead at Camp Pioneer at 10:30, and were at Temple Lake by 12:00. Fish remains in the lake give evidence of a recent large catch.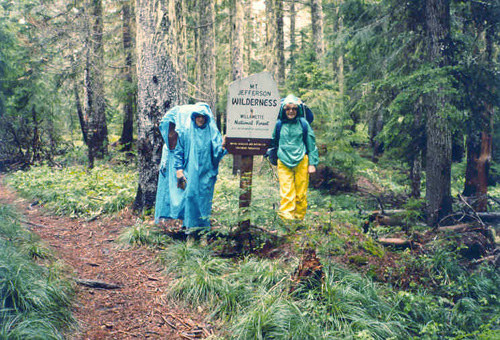 Tracy and Lisa
After lunch of beef sausage, cheese and crackers, we set up camp and at 1:00 headed for Marion Mountain. We were on the summit by 3:00. Met a couple on the trail going to Teto Lake---says fish is best there and Chiquito Lake.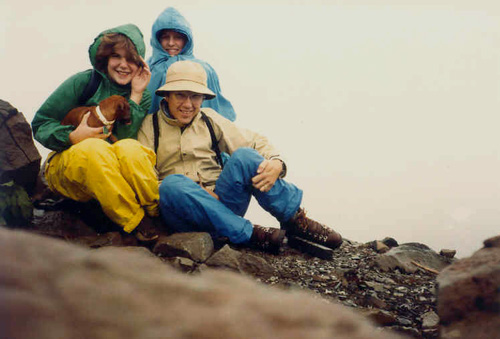 Lisa with Moxie, Tracy, and me
Summit was windy and cold, back to camp by 4:30. Big problem in getting fire started. Took three fire starters, gas and finally dry bark and pitch off of trees.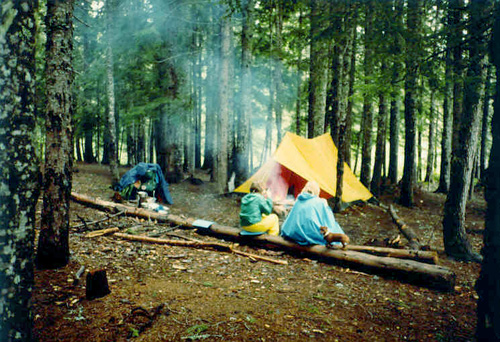 Lisa, Tracy and Moxie in camp
While dinning on macaroni and cheese with ham TVP we are treated to sight of beaver on the lake. Due to the cold go to bed at 8:00, ah, warm at last! Evening is filled with drumming of grouse and the night is interrupted with splashes from the beaver.