Date: June 5, 2003
Location Wenaha River Backpack - Day 1
Where: Wenaha-Tucannon Wilderness
Jeanette & Jim at the Elk Flat Trailhead
This Chemeketan Backpacking Trip in the Wenaha-Tucannon Wilderness, was led by Allan King, and attended by Joanne DeMay, Bob Custer, Jeanette and myself.
The Wenaha-Tucannon Wilderness, located in the far Northeast corner of Oregon, actually straddles the Oregon-Washington border. Our four-day, twenty-seven mile trip was from Elk Flats down along the Wenaha River Trail to the small town of Troy. We began by leaving a car at Troy and then driving up to the Elk Flats Trailhead where we camped the first night before hiking down into the Wenaha River canyon.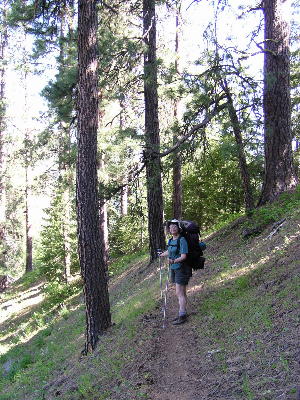 Jeanette along the Elk Flat Trail
We got an early start on Thursday morning and were quite pleased with the condition of the Elk Flats Trail as we hiked down into the canyon through beautiful pine forest. I was surprised at the lushness of the vegetation and stopped to take a lot of wildflowers photos, among which were, Woodland Strawberry, and Fairy Slipper. Reaching the Wenaha River we discovered we would have to make a crossing with out a bridge. With a combination of fording, and scrambling over log-jams we made the difficult crossing and collapsed by the bridge remains for lunch.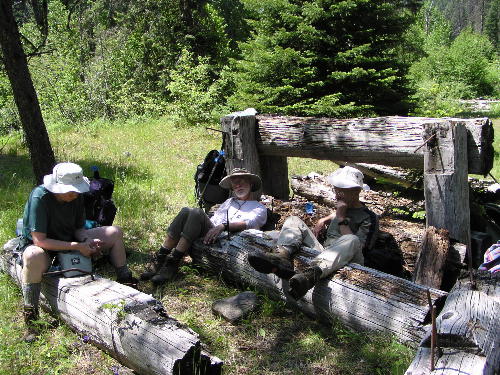 lunch at the bridge remains
After lunch we discovered we next had to ford the North Fork of the Wenaha River, which was much colder and in very short order we had to make yet a third stream crossing of Beaver Creek. We finished out our day some four miles later crossing Rock Creek to our campsite for a total of over 10 miles with 2740 feet of cumulative descent.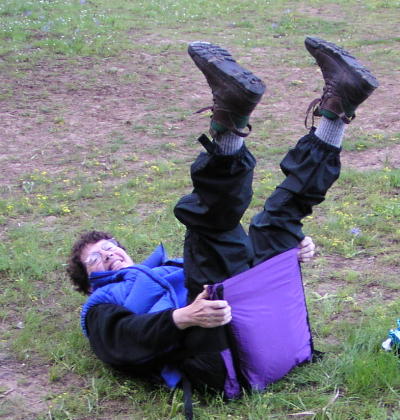 Elk Flats a little tricky for Jeanette
Bob displays his creek crossing form
Paintbrush along the Elk Flats Trail