Date: May 26, 2001
Location Pike Creek Hike
Where: Steens Moutain
---"We are camped at Page Springs with Lon & Nina and Tim, Elaine, Bob and Connie are in a rented unit at The Steens Mountain Resort. I choose this hike on the recommendation of Larry Brown and because its in Bill Sullivan's new book '100 Hikes Eastern Oregon'."


looking west accross the Alvord Desert
---"We start hiking at 11:30. Its very hot and we struggle up the old mining road on the south side of the twisting canyon. However we enjoy the many wildflowers, Penstemons, Paintbrush, a pale Lupine and some yellow Balsamroot. We spot the interesting rock formation on the north rim called Neddle Point.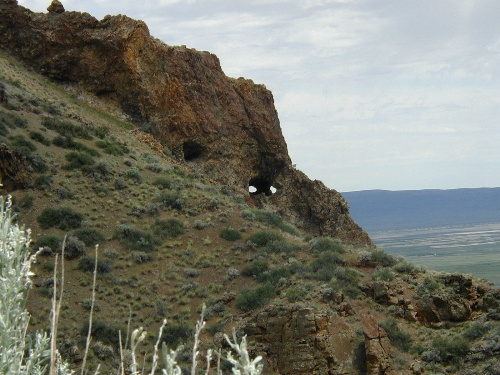 Needle Point
At the one mile point where the trail crosses the creek, Jeanette & Elaine elect to wait, the rest continue. After a ways we start to have thunder and when the rain starts, I say 'turn around'. It rains pretty hard on us and we are soaked by the time we get back to the cars at 2:45. Distance 4.8 miles, cumulative climb 1110 ft.

We make a stop at the town of Fields for milk shakes before driving back to camp."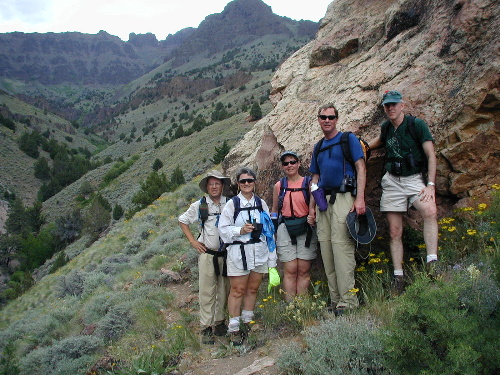 a pause for a photo before the rain storm