Date: May 11-13, 1973
Location Family Backpack
Where:
French Pete Creek Trail
Taken from my fishing journal of 1973
---'Go backpacking with Joyce and kids, leaving Salem at 4:30, eating supper as we drive. Arrive at trailhead (MAP) at 7:00. Kids anxious to hike, so hike for 45 min. before stopping for camp. Decide to sleep without tent, works well, but has rained most of the week and wood is too wet to burn. Give up and go to bed at 8:00. Kids delirious with excitement. All sleep good. Next morning after breakfast are on the trail by 8:30. I have 33 lbs and Joyce has 24 lbs. Seems light enough.'
'Beautiful canyon, lots of wildflowers. Hike until about 12:00. Stop at campsite that meets all our needs at about 2 ½ miles from road. Day is extremely warm, about 85, water is 47. Start fishing about 2:30.'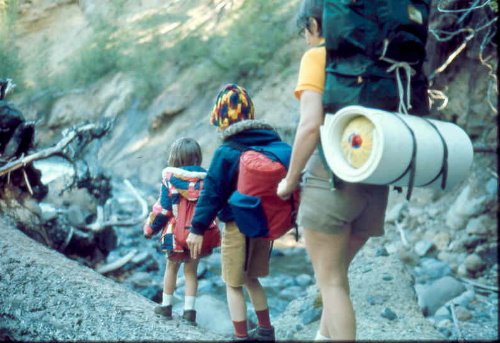 Lisa, Mike & Joyce using log to cross French Pete Creek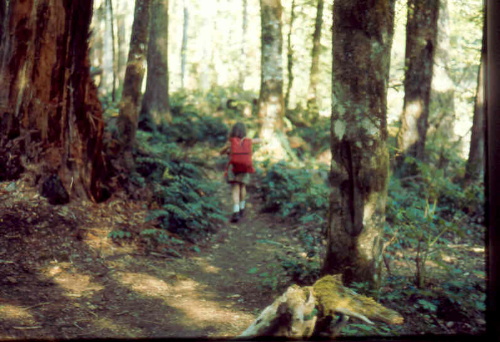 Lisa running down the trail like a nymph of the forest.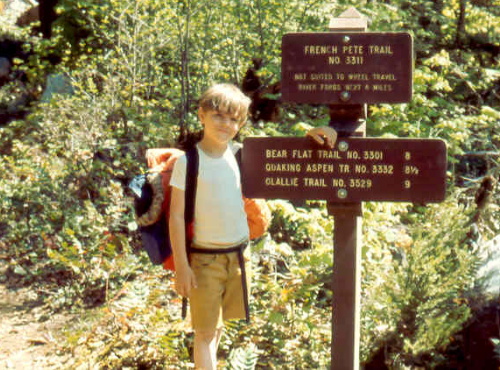 Mike at the Trailhead-----a successful trip!